Brigham Stepping Strong Marathon Team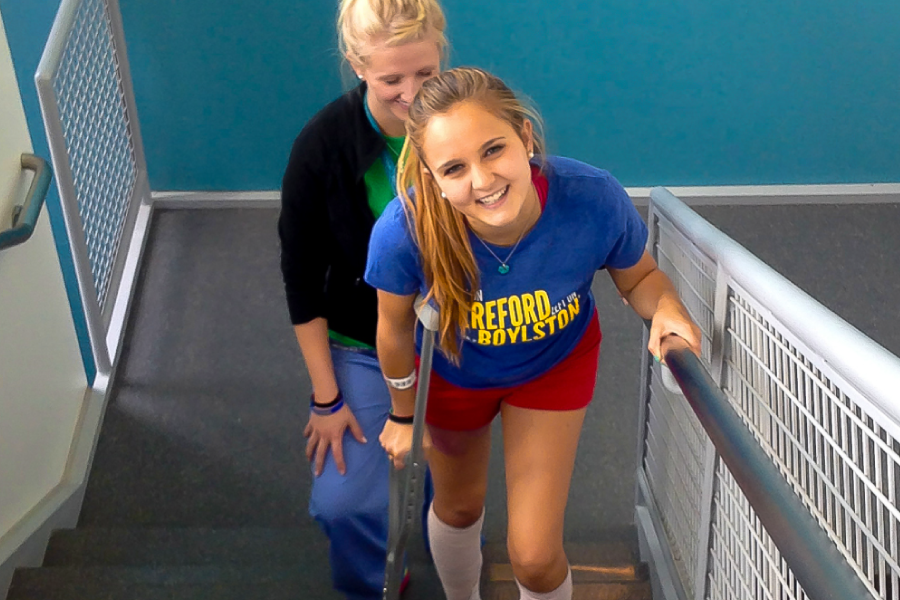 "No words will ever fully express my gratitude to the doctors and nurses at BWH who saved my life and legs in the aftermath of the 2013 Boston Marathon bombings" —Gillian Reny
What We Support
The mission of The Gillian Reny Stepping Strong Center for Trauma Innovation is to catalyze multidisciplinary collaborations that inspire groundbreaking innovation, effective prevention, and compassionate intervention to transform care for civilians and military heroes who endure traumatic injuries and events. Stepping Strong funded initiatives are making a profound difference for trauma patients and their families worldwide. To date, the center has raised more than $25 million. But much more needs to be done.
Trauma is often referred to as the neglected global epidemic of modern society as it accounts for 43 million hospital visits and an economic burden of $700 billion per year. It is the number one cause of death for people 46 or younger, ahead of cancer and heart disease -- and every 3 minutes, someone dies from a traumatic injury. When you support a member of the Brigham Stepping Strong Marathon Team, you are helping the Brigham turn tragedy into hope for civilian and military heroes worldwide who have suffered devastating traumatic injuries.
Funds raised by the team will
Fund groundbreaking projects and innovators that address clinical problems impacting both civilian and military patients, including the Ewing amputation, a revolutionized lower extremity amputation first featured on CNN


Train the next generation of plastic surgeons in advanced and innovative techniques for treating acute and complex traumatic injury with The Stepping Strong Plastic Surgery Trauma Fellowship—the first fellowship of its kind


Transform cutting-edge research in limb reconstruction, advanced stem cell technology, bioengineering, wound healing, and other trauma-related areas


Partner with experts across the Brigham and Harvard Medical School to reduce the number and severity of traumatic injuries through the Stepping Strong Injury Prevention and Intervention program


Support the Stepping Strong Research Scholars who investigate bone and skin regeneration in trauma patients


Advance multidisciplinary collaboration in orthopaedics, plastics, emergency medicine, and trauma care


Join forces with military leaders and experts in the global community to ensure best practices in emergency preparedness
In their own words
"The virtual experience and team support were amazing. We look forward to running again." –Charles and Pauline Santry, 2020 virtual team
"The support the Stepping Strong Team provides is above and beyond what I imagined. The experience of running with Stepping Strong has been so incredible!" —Sameera Mathan, 2019 team
"When I discovered the Stepping Strong team, I was sold. I thought to myself, 'I need to do this'. I've seen firsthand how the funds raised help doctors and researchers develop better ways to help and heal patients. Being a part of the Stepping Strong team provided me the opportunity to give back in a different way." —Kimberly Cardillo, 2018 team
"I love the Boston Marathon because of the energy, camaraderie, and kindness that surrounds every runner and circles the whole city and Stepping Strong is at the center of that positivity! I am so impressed by how much the center has grown and accomplished and can't wait to see it continue to grow and accomplish the unthinkable" —Rachel Bliss, 2018 team
"It was an honor to run in support of the Stepping Strong Center. To know who and what I am running for made all the difference when my legs were cramping and my muscles were begging me to stop running. There is nothing like representing the Boston Strong spirit that defines our city on such an emotional day." —Matt McGaffigan, 2018 team
"We live a long way from Boston, so I was not aware of the broad support for Stepping Strong in the city. Wearing the Stepping Strong singlet seemed to transform me to royalty. The members of the team I met on race day were awesome. I definitely plan to support Stepping Strong runners in future Boston marathons." —Win Porter, 2015 team
"Being a part of the Stepping Strong team has been such a rewarding experience. It is amazing to see how strongly people feel about this cause. By spreading awareness about trauma research and care, I have received unbridled support and enthusiasm from Boston residents, as well as family and friends throughout the country." —Olivia Tomeo, 2015 team
To learn more, contact Ali Luthman at marathonteam@bwh.harvard.edu or 774 262 0314. For information about Stepping Strong news, events, and funded program areas visit www.bwhsteppingstrong.org.