Brigham Stepping Strong Marathon Team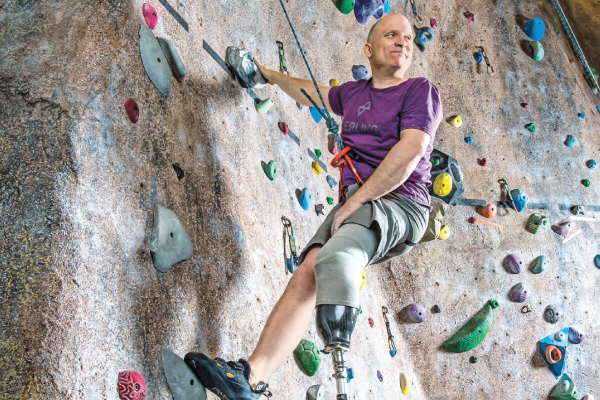 Rock climber Jim Ewing fell 50 feet from a cliff, leaving him with severe damage to his left leg. After the accident, Ewing chose to have his leg amputated, becoming the first patient to undergo a revolutionary Stepping Strong-funded procedure that allows him to control and interact with his prosthesis like a natural limb.
Why We Run
Why Raise Funds for The Gillian Reny Stepping Strong Center for Trauma Innovation?​
Tragically, traumatic injuries and events have become all too common in recent years. Trauma is the number one cause of death for people 46 or younger, ahead of cancer and heart disease. Nearly $700 billion a year is spent on decreased productivity, lost work, and medical costs for trauma survivors. Yet, trauma remains an underfunded, underrepresented medical discipline. Your participation on the Brigham Stepping Strong Marathon Team can make a profound difference.​
STEPPING STRONG TO ADVANCE TRAUMA RESEARCH​
Run to propel interdisciplinary trauma innovation, research, and care for the benefit of patients worldwide.​
"Trauma is killing a lot of people and Stepping Strong is sending a powerful message in response. I am so excited to support them as they work hard to improve the lives of patients and their families." —Juan Herrera-Escobar, MD, 2018 team​
STEPPING STRONG FOR BOSTON STRONG​
Run to turn tragedy into hope, and to honor the spirit and outpouring of kindness that defined our community in the wake of the 2013 Boston Marathon bombings.​
"I ran the 2014 Boston Marathon for Gillian—my baby sister, my best friend, and my greatest gift. I ran for the community of supporters, survivors, responders, doctors, and nurses who saved our family in myriad ways. And I ran to finally cross that finish line in 2014 with the conviction that there is so much good in this world." —Danielle Reny, 2014, 2015, and 2023 teams​
STEPPING STRONG FOR OUR MILITARY HEROES​
Run to fund innovations that will benefit the more than 50K military personnel wounded since 9/11.​
"During my deployment to Iraq, I saw firsthand the impact of trauma, both physically and mentally. I run with BWH because Stepping Strong is a great platform to help survivors of traumatic injury." —Tom Steinbrunner, 2016 team​
STEPPING STRONG FOR THOSE WHO CAN'T
Run to honor the spirit or memory of a friend or family member who has passed away or struggled with illness, trauma, or other devastating hardships.​
"I was introduced to Stepping Strong when my friend, Jackie, was injured in a horrific boating accident and tragically lost one of her legs. I ran the marathon in 2018 to support Jackie and all others affected by trauma and in support of the hospital that was there for her through it all." —Joann O'Brien, 2018 team
STEPPING STRONG TO GIVE BACK
Run as a way to say thanks for receiving exceptional medical care that has improved your life or the lives of your families and friends.​
"In 1993, I had a traumatic injury to my right arm resulting in severe nerve and tendon damage and the loss of four fingers. I ran the Boston Marathon to give back and say thank you to the Brigham doctors and nurses who took such good care of me." —Stephen Teague, 2016, 2017, and 2018, and 2019 teams
To learn more, contact Ali Luthman at marathonteam@bwh.harvard.edu or 774 262 0314. For information about Stepping Strong news, events, and funded program areas visit www.bwhsteppingstrong.org.